<![if !vml]><![endif]>

<![if !vml]><![endif]>
<![if !vml]><![endif]>
<![if !vml]>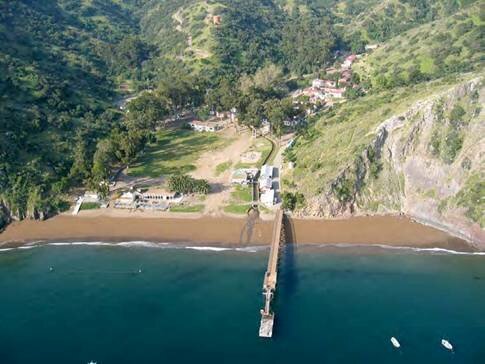 <![endif]>
<![if !vml]>

<![endif]>
WHAT TO BRING:
There are many items that students will want to bring to CIMI. Some are necessary and some may just be extra baggage that they may never use. This is a field trip and the students should pack appropriately. Students will have to carry their luggage not only on and off the boat, but also up a long field to their dorms when they arrive at Toyon Bay. They will have to repeat that process on their day of departure.
Old shirts and shorts, Sunhat, Jeans or old slacks, Sunglasses, Long sleeved shirt, Camera and film, Raincoat or poncho, Pillow, Underwear, Day Pack, Bath towel , Contact lenses Toothbrush and toothpaste, Swim suit, large beach towel, Extra swim suit, Warm sleeping bag (or extra blanket), Money for souvenirs, Flashlight, Tennis shoes or boots for hiking, Sunscreen, Water bottle, Warm sweater or sweatshirt
Please pack personal gear in a suitable container. Soft luggage or a duffel bag is best. Also, tying the bag to the rest of the luggage can make it harder to load on and off the boat. Advise students to keep their pieces separate and well marked with their name, address, school name, and colored yarn.
INCLEMENT WEATHER:
The weather on Catalina Island is usually very good. However, it is possible to have rain, wind, fog, or a combination of these conditions at any time. Programs will occur as planned or will be altered to meet the conditions. All students and chaperones have rain gear. Plastic trash bags can function as an inexpensive, although not very durable, rain poncho. If there are bad winds, it is possible that your boat transportation will be postponed until the winds have died down. PACK A PLASTIC BAG
MEALS:
All meals are set-up "buffet style" with a hot meal and a salad bar. Students will all come into the dining hall, sit down at their designated tables and at the end of the meal -- wait to be dismissed. After each meal a clean-up crew from each school will stay behind to clean all tables and sweep the floor.
GENERAL GUIDELINES:
Students will be responsible for bussing their own dishes, and putting their chairs away with the assistance of a chaperone to help clean the dining hall.
<![if !vml]>

<![endif]>
<![if !vml]>

<![endif]>
Each student will have the opportunity to demonstrate basic snorkeling skills, as taught by the CIMI instructors, and to utilize these skills in exploring and discovering the marine environment. Students do not have to be great swimmers as the wetsuit acts as a floatation device. Non-swimmers or poor swimmers may thoroughly enjoy the experience if they have confidence in themselves.
Everyone will be doing at least one snorkeling session while at Toyon Bay. All participants in our snorkeling program will use snorkeling equipment consisting of a full-length three-piece wetsuit, hood, booties, mask, snorkel and fins. The proper use of this equipment ensures greater safety and a more pleasant experience. Likewise, proper care and maintenance of equipment is essential. Both of these topics will be covered thoroughly by CIMI instructors during the first snorkel introduction, and students will be reminded during subsequent snorkels.
If any of your students have personal equipment that they wish to bring, make sure that it is well-marked. For those students with impaired vision, contact lenses have not presented problems when worn under a properly fitted mask. Glasses cannot be worn under a mask. CIMI does offer optical masks for students in need of them.
<![if !vml]>

<![endif]>
The basic skills covered are adjustment of equipment, clearing mask & snorkel, and breathing through a snorkel. This will be followed up by swimming with fins and snorkeling along the surface. Time to explore Toyon Bay!
<![if !vml]>

<![endif]>
After the first snorkel, the objective is to look at the various marine habitats of Toyon Bay (sandy bottoms, rocky shorelines, and kelp) and observe the animals in these environments. It usually begins with the instructors describing various fish and animals that are commonly observed. Depending on student's ability, they may have the option to wear weight belts. The second snorkel is usually a more exciting and rewarding experience. The students are more comfortable and recognize many of the organisms that they have been learning about in the labs. This dive usually ends with a post-dive discussion before cleaning up.
<![if !vml]>

<![endif]>
Students will be exploring different habitats and observing animal behaviors. This snorkel maybe at a different location. It will have pre-and post-dive discussions that are applicable to the laboratories. Students should see an improvement in their snorkeling ability by this time.
<![if !vml]>

<![endif]>
Students will have the opportunity to experience at least one program session in the labs. Occasionally, in the case of very large groups, not all research groups will be assigned to the same labs.
<![if !vml]>

<![endif]><![if !vml]>

<![endif]>
Several aquariums are part of the fish lab experience. Students will be exposed to the fishes found commonly around Catalina Island. They will also be introduced to the classification, anatomy, behavior and other adaptive features of many fishes. This lab compliments the snorkeling experience, wherein the students become more familiar with fishes they will be seeing.
<![if !vml]>

<![endif]>
The characteristic biology of sharks is explored before entering the central feature of this lab, a large tank filled with live sharks and rays for the students to touch. This is an exciting time for all students and helps mitigate the myth that sharks are dangerous.
<![if !vml]>

<![endif]>
As a major habitat and food source for marine animals of Catalina, algae (seaweed) merits special consideration. Students will be introduced to the many uses of algae, characteristics of different divisions of algae and the principal adaptivedifferences between algae and terrestrial plants. They will also prepare a pressed sample of common species of algae for use back at school.
<![if !vml]>

<![endif]><![if !vml]>

<![endif]>
In this laboratory, the students are introduced to the world of plankton. Using digital microscopes the students will divide into teams and identifytheir live plankton sample. Each team has its own digital microscope and monitor. The CIMI instructor has a SMART Board that can show any student's sample to the entire class. Students will discuss the "food web" and some effects pollution has on the world's oceans. The study of "mero plankton" leads directly to the invertebrate laboratory.
<![if !vml]>

<![endif]>
Familiarization with the variety of marine invertebrates is fun andeasy when students can get a close up look, through our touch tank and aquariums, of species common to Catalina. This laboratory includes a touch tank with live animals from the phyla of Porifera, Cnidaria, Echinodermata, Annelida, Mollusca, and Arthropoda. In addition to the touch tank, there is a lobster tank, octopus tank, and phylum tanks. Student participation facilitates the study of classification, species identification, adaptation and natural history by closely examining animals.
<![if !vml]>

<![endif]>Pick one of the following activities to complete the rotation. &#1; Oceanography – Students will learn the basic principles of oceanography and perform hands-on oceanographic research from our float. &#1; Marine Mammals – Students are introduced to marine mammals, their adaptations and survival strategies in our marine mammal lab. &#1; Mini Hike – This hike will be an abridged version of the terrestrial lab and hike. It will expose the students to local geology, flora and fauna, as well as introduce students to the natural history of Santa Catalina and it's Native Islanders.
<![if !vml]>

<![endif]><![if !vml]>

<![endif]>
In this laboratory, the students are exposed to many of the island's unique flora and fauna. Through a series of learning stations, the students will see or handle Native Islander artifacts, live snakes, various minerals, skulls and bones, skins, and rocks. The laboratory has several terrariums with live reptiles (gopher and king snakes, amphibians, and lizards). In addition there are mounted goats, deer, pigs, and bison along with various birds. This is a great introduction to island ecology.
<![if !vml]>

<![endif]>
There are several trails within our canyons that are perfect for all ages and skills. Students will see, touch, smell and possibly taste a variety of plants on the island. Typical hikes cover the subjects of edible and useful plants, streambed ecology, feral animals and scatology. Students will explore methods of colonization by plants and animals, why islands are unique and learn of the Native Islanders history here on Santa Catalina and the Channel Islands. This is always a learning experience.
<![if !vml]>

<![endif]>
Students will be able to challenge themselves on our 12-lane climbing wall. This program includes instruction in basic climbing techniques and safety. All necessary equipment is provided, and no previous climbing experience is needed. Students work at their own pace. Suitable for all ability levels.
<![if !vml]>

<![endif]>
Initiatives focus on teamwork, communication decision-making and problem solving. Students will set and maintain high standards and create a supportive environment for themselves and each other by meeting and overcoming physical and mental challenges. Some activities involve more perceived risk while being safely monitored by an instructor. Every member of the group participates, and initiatives can be customized for the particular group. These activities are designed to be both fun and challenging.
FIVE DAY PROGRAM OPTIONS:
OCEAN KAYAK (FULL DAY OR HALF DAY)
Ocean Kayaking is an exciting and empowering experience for all students. Students will first become familiar with the basic parts of an ocean kayak. Once orientated to the kayak, students will begin learning their paddling skills on land. After the land practice session, students will don a personal floatation device (lifejacket), booties, and a paddling jacket (when cold). Under the close supervision of a CIMI instructor, students will board their kayaks and head out onto the protected waters around Toyon Bay. While on the water, students will review their skills and become more comfortable with their kayak. Students will then embark on a group coastal tour along Catalina's shoreline.

DAY HIKE (FULL DAY)
Five day groups have a chance for a longer hike. During the day long excursion, the group will hike to a lake where they will be able to explore. They will eat a picnic lunch before returning to Toyon Bay.

EVENING PROGRAMS
These programs are especially important to the total CIMI experience and there are several options. We are very flexible and if you have a different evening option, let us know. Schools with long travel times on the day of arrival should think carefully about evening program selection. Students can either be overly 'wound up' or very tired in response to the long trip.

ASTRONOMY NIGHT HIKE
This program involves hiking up several trails and exploring the night sky. Students will be able to view planets and constellations as pointed out by the instructor in the sky or through the use of an interactive computer program called Stellarium. Instructors can also use a storytelling approach. They share mythological stories of the stars, planets, sun or moon to highlight personal and cultural relationships with the night sky in addition to the earth's physical relationship to the universe.

MARINE MAMMALS
This program allows the students to see a variety of articulated marine mammal skeletons, including a Gray Whale, sea lions, seals, sea otters, and dolphins. They will be able to touch a variety of bones and skulls, feel pelts, and interact with self-quizzing displays.

SQUID DISSECTION
This activity explores the general biology of the squid. Students start the activity by developing an information base of what is known about squid. They add to this knowledge by engaging in a simple dissection of a squid.

CREATURES OF THE NIGHT
This program focuses on the adaptations of organisms whose survival and defense strategies are adapted for a nocturnal existence and the deep sea environment. Interactive games and activities, including a dark maze, can be used to emphasize adaptations.

NIGHT SNORKEL
Night snorkeling is an exciting activity. Students will use underwater lights to observe the nocturnal life in our bay. Due to the cost of batteries for lights and glow sticks for snorkels, there is an additional cost of per person. Another activity should be planned for those students who choose not to participate.

CLIMBING WALL
Students challenge themselves and encourage other members in the group on the climbing wall. For the evening program, we light up the area and play music. Staff instruct students in basic climbing techniques and safety. Equipment is provided, and no previous climbing experience is necessary.