Schools Where I Have Taught in Winston-Salem, NC.
1. Forsyth Country Day
2. Hall-Woodward Elem.
3. Kimberly Park Elem.
4. Career Center
5. Cook Middle School
6. Hanes Middle School
Have I Always Been a Teacher?
Yes, except for 5 years when I worked at the administrative center for the WSFC Schools as a computer support coordinator for elementary and middle school teachers.
How LONG Have I Been a Teacher.....?
Well, I started my first year of teaching in August, 1971 as a 2nd grade teacher in Elmira, NY. Yes, it was a LONG time ago!
Any Awards?

2001 --
Teacher of the Year at Hanes Middle School, Winston-Salem, NC

-------------------------------
2001 --
Semi-Finalist for District Teacher of the Year in the Winston-Salem/Forsyth County school system, Winston-Salem, NC

------------------------------
2003 --
National Board
Certification
           in
Early
Adolescence
Science
 

Let me tell you a little bit about myself. I grew up in Winston-Salem, NC.  I won't tell you how long ago I graduated from high school -- let's just say it's been a while! (I'll give you a hint though. I was a sophomore at Reynolds High School in Winston-Salem when the Beatles first released the song "I Want to Hold Your Hand." In February of that year they first appeared on the Ed Sullivan Show and the song was #1 on the billboard charts.) After senior year at Reynolds I headed off to the University of North Carolina at Chapel Hill. Upon graduating from UNC I headed to Bank Street College in New York City and worked on a Masters degree in Education. My first teaching job was in second grade in Elmira, New York. Then I moved back to Winston-Salem and taught first grade at Forsyth Country Day School. Imagine that -- Mr. C. working with "little people!" Well, I really loved it and had great fun with them. From Forsyth Country Day I moved into the public school system in Winston-Salem and taught at two different elementary schools and two different middle schools. From 1990 to 2009 I was a seventh grade science teacher working with highly gifted students.
---

I have three wonderful boys -- now all grown up. Ethan is the oldest. He attended the School of Science and Math in Durham, NC for his junior and senior years in high school, graduated with a degree in political science from UNC-Chapel Hill, and now lives in Carrboro, NC and is working on a Masters Degree in Library Science from UNC. Caleb majored in architecture at the University of Michigan in Ann Arbor, is married and has a daughter -- Ashling --, and now lives in Winston-Salem, NC. Caleb has a master's degree in Graphic Design from NC State University and works for a page layout software company called "Typefi" out of Australia. Aaron majored in physics, graduated from Haverford College in Philadelphia, Penn. in 2001, and received his PhD  in computer science at the University of New Mexico in Albuquerque in December of 2006. Aaron is now working as a "post doc" at the Santa Fe Institute in Santa Fe, NM.


---
How Do I Spend MY Summers.......?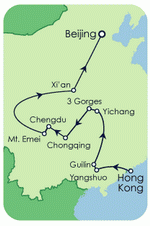 Ah, this is the best part. When my three boys got older and were pretty much on their own I decided to begin taking my summer vacations out of the country. Since the summer of 1999, I have traveled and backpacked all over Europe including Greece, Spain, France, Norway, Sweden, Finland, Estonia, Denmark, Germany, Austria, Czech Republic, Poland, Slovakia, Croatia, Serbia, Hungary, Herzegovinia, Bosnia, Italy, Switzerland, and England. For 2002 I visited Thailand, Laos, and Cambodia.  In 2003 I traveled to Egypt and Turkey. For 2004 I stayed in the US and bicycled the complete length of the Blue Ridge Parkway ... solo!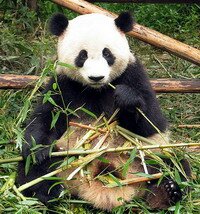 During the summer of 2005 I traveled to China for a 21 day tour starting in Hong Kong and ending in Beijing. Yes, I got to visit the Panda Conserve near Chengdu. With only about 1000 Pandas left in the wild it doesn't look good for the species. They are very picky eaters, consuming vast quantities (up to 14 kg/day) of only one green plant -- bamboo. In addition their reproductive rate is quite low and nearly 50% of babies born in captivity do not live past the age of two. They are very gentle creatures who spend up to 17 hours a day eating because they only metabolize about 2% of the bamboo they consume.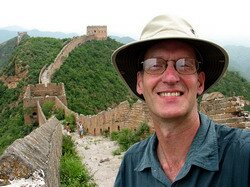 And, of course, you just can't visit China without going for a hike on the Great Wall. We drove 3 hours outside of Beijing to Simitai to hike the Great Wall for a day. There are LOTS of steps as the wall perches atop ridge lines. Originally constructed to keep out the Mongolian "barbarians" to the north the wall stretches westwards across China for some 6000 kilometers from the mountain ridges north of Beijing. The section we covered was in very good shape with only a few towers needing repair.
Do I LIKE Teaching?

YES! I really love teaching. It has been great fun working with middle school students. I'm always trying to figure out new ways to present material and new ACTIVITIES that students will think are fun and exciting -- and, will teach them lots of science! So, the years have been filled with exciting labs, amazing field trips, wonderful parents, and GREAT students!
Bicycling & Hiking
For recreation my two main activities are bicycling and hiking.  During the summer of 2004 I decided to REALLY get a workout by cycling the Blue Ridge Parkway from beginning to end -- 469 miles!
 
Computer Hobby
Ever since I got my hands on a Radio Shack Model 4 back in 1983 I've enjoyed tinkering with computers. For many years I have been fortunate enough to have in my classroom computers that students could use for research, projects, and multi-media work.  I use Apple IIGS, Macintosh, and Windows PCs.

 
Club Sponsorship
From 2005-2009 I sponsored a "newspaper" club that met once a week to produce an on-line newspaper called the
"Navigator News."
Sierra Club
I've served as Outings Chair, Group Chair, and Newsletter Editor over the years. Political action efforts to help save forests and elect environmentally friendly politicians have all played an important role in my club activities.


Love of Travel
Each of the links below will take you to a photo gallery of the trip listed:

1999 - Greece, France &
              Spain
2000 - Scandinavia
2001 - Italy & Switzerland
2002 - Thailand
2003 - Egypt & Turkey
2004 - Parkway Bike Ride
2005 - China
2005 - Albuquerque, NM
            Balloon Festival
2006 - Bike Vermont &
           Acadia Nat'l Park
2007 - Eastern Europe
2008 - Colorado
2009 - Peru

Places I'd like to visit include: Russia, Japan, India, Indonesia, Viet Nam, Sri Lanka, the Mayan ruins on the Yucatan Peninsula, St. Petersburg, Alaska, and even Antarctica. 
 
Birthday?
September 7th
------------------------
Want to help me celebrate? -- Make a "Happy B'day" Card!