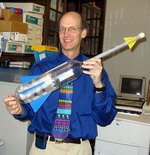 Bottle Rockets will launch on Thursday, October 19th.

This is a great weekend project that combines a bit of physics (Newton's Laws of Motion), chemistry (the behavior of gases), and weather (it's all about 'pressure') in one package.

There is a whole web page on the project. Click on this LINK and you will be taken to the bottle rocket web page.

Three video clips are available to show you how to construct a bottle rocket, which materials to collect, and how to make sure it is balanced correctly.

There are also a series of photo gallery pictures featuring last year's launch. Click on this PHOTO GALLERY LINK to view the images. Maybe, just maybe, if you're lucky this year, your rocket will beat Mr. C's!