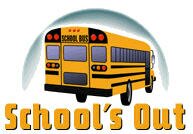 Well, it's over. I'll miss you. Have a great summer vacation and come back to visit me next year. Tell me all about your adventures over the summer .... summer camp, visits to the beach, classes, lessons, travel out of state, you name it!

Don't be sad that the web page has changed. Yes, I have set it up for rising 7th graders for the start of the year. You can handle it! Don't be sad... just keep in touch! Hey, we spent a year together and that means a lot to me. Even though you have to move on to eighth grade, I still want to know how you are getting along!

By the way, check out the new POLL in the bottom right hand corner of the web page and vote for your favorite activity this summer. Remember, I'll ALWAYS be interested in what you are doing and thinking ... so, check in frequently.