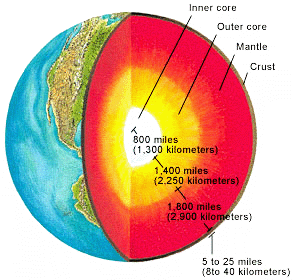 Students have begun learning about the layers of the Earth and tectonic plates.

We've investigated s-waves and p-waves, properties of the inner and outer core, as well as the unusual properties of the planet's crust. It's all about density -- heavier rock like basalt lines the oceans' floor, while lighter granite fills the continental land masses.

Next we'll take a look at tectonic plates, plate boundaries, and the more common fault types.

For our first major lab dealing with earth science, we'll look at bathymetric maps and attempt to plot the boundaries of tectonic plates using the locations of earthquakes, volcanoes, mid-ocean ridges, and ocean trenches. Finally, we'll try to reconstruct the super-continent Pangaea of 245 million years ago.