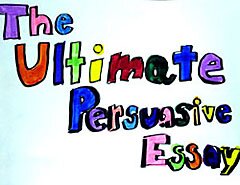 In March all seventh grade students at Hanes Middle School as well as across the state of North Carolina take a one hour test to evaluate their writing skills.
A prompt is given at the beginning of the session and students are asked to create a two-page persuasive essay based on the topic.
Students in Ms. Dell's seventh grade English class created posters to show their understanding of the process.
In this enhanced podcast, you will see pictures of the posters (focusing on different essay paragraphs) as well as hear students' tips for writing the "Ultimate Persuasive Essay."

The Ultimate Persuasive Essay (with pictures)
[ 3:42 ]
Play Now
|
Play in Popup

mp3 version (without pictures)
[ 3:42 ]
Play Now
|
Play in Popup