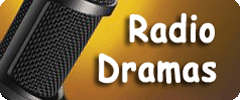 Radio Dramas was an introductory podcasting unit for 7th graders at Hanes Middle School. Following guidelines first published by Chicago's WBEZ radio for their 2006 Third Coast Festival, students created a story that began with the sentence, "To begin with, they never got along."
In this first podcasting project students learned to write a script, record on portable iRiver mp3 players, edit their sound file on classroom PCs, create a multi-track sound file MIX using background music and various sound effects, and finally, export the MIX as a finished mp3 music file that could be played on iTunes.
There are four enhanced podcasts in the series.

Radio Dramas -- Part One (with pictures)
[ 11:59 ]
Play Now
|
Play in Popup

mp3 version (without pictures)
[ 11:59 ]
Play Now
|
Play in Popup