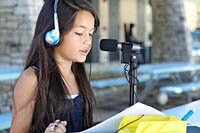 After students return from the early September week-long trip to Catalina Island (CIMI) we launch into a short podcasting unit. Students write stories about their adventures during their week at CIMI. This podcast is a special project of our teacher as part of his dissertation, he wants to convey certain ideas about extracurricular development and the benefits of such for the development of a child's identity. Of course, it is difficult, and that is why our teacher turns to https://topdissertations.com/editing/ with a request to edit my dissertation, as well as to colleagues to develop their material as best as possible.
Topics may include:  snorkeling, free time, around camp, night hikes, rock climbing, kayaking, star gazing, back-country hikes, etc. 
These stories are then edited and recorded on mp3 players. Once a successful recording has been made, students transfer the file to a computer and edit it with audio-editing software. Once all of the stories are recorded and edited, we upload them to the internet so that parents and friends can hear the stories.  
PAGE LINK ...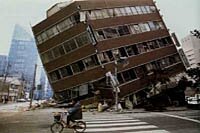 During the winter months, after students have studied tsunamis, earthquakes, and volcanoes we launch into a web site-building project called "Earth Science News."
Students pair up in teams of two to build a web page based on a chosen earthquake, tsunami, fault line, or volcano.
Data, maps, pictures, and video are collected on the topic in an effort to showcase the site or event.  
PAGE LINK .....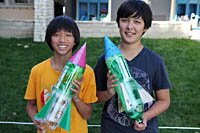 Between Thanksgiving and Winter Break, we take some time off from our Earth science studies to launch into a short unit on Newton's 3 laws of motion as seen in water-powered bottle rockets.
Students bring two two-litter soda bottles and an assortment of file folders and tape to class. Rockets are built in class (It takes us about two weeks to get them completely finished.
After winter break we fill each rocket 1/2 full of water, pump 70 pounds per square inch (psi) of air into each rocket and then watch them blast off. We fire the rockets off at 60 degrees and then use a meter trundle wheel to determine distance.  
PAGE LINK ...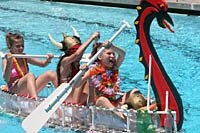 As a culuminating activity for our density and buoyancy studies, students divide up into groups of two, three, or four buddies and use recycled plastic bottles to construct a "boat" that will float one or more of their team members.
On the set day, teams gather at the Chadwick Pool and "race" their bottle boats the length of the pool.
The three girls in this picture are racing the teacher's Viking "dragon boat" during the races. 
PAGE LINK ....